Welcome to Idle Hands, my weekly segment where I discuss conversions, painting, and strategy for the Warhammer tabletop game…
THIS WEEK
So, things are getting exciting around my house pretty quickly. I've been exhausted mentally and physically, and I know it's got to be about ten times worse than I actually think it is for my wife. My little lady is getting ready to pop, the baby is 4lbs 9oz according to Thursday's ultrasound. My step mom is throwing a baby shower on the 6th, so I'll be taking the wife there. I'm not sure what my dad has planned for the guys, but I'm sure there will be a handful there. A bit of the three Bs would be fine by me (Beer, Burgers, and Bowling).
In other news, a new gaming store opened in the area and I've been tapped to do some commission work for them. As I write this, it's Monday morning and I'm about to head to Fayetteville to get a better feel of the situation at GEAR. My understanding is that they want to run WHFB and 40K, possibly other stuff like Warmachine/Hordes. They have some tabled and no terrain, basically it's a blank canvas. So, I'm going to put my head together with the owner and see what he needs, what he wants, and what I can do for him.
Next week, I might have a better idea of what I'm getting myself into.
MALEVOLENT CREATIONS
I finally got a chance to take the new airbrush for a spin, and I'm completely happy with it so far. Unfortunately, as much as I accomplished I didn't really get any one thing actually finished. The display board is still in pieces and I've still got several units in boxes.
MOUNT SAINT AWESOME
Since I've been waiting on bases I've been giving the display board some attention, I actually finished what was the most involved piece of terrain. A large portal with a Daemon Prince. I decided to move the LEDs originally intended for the Chaos Star to the portal, much easier to access the electronic gubbins this way. They're also much more visible/prominent this way, don't believe me: watch the video.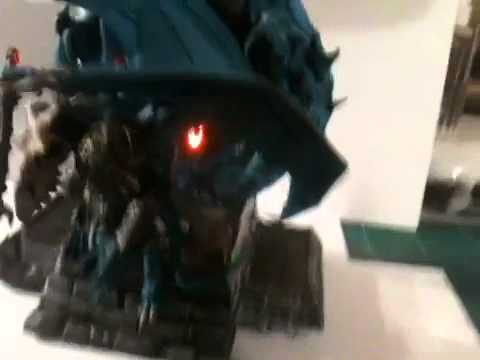 The Daemon Prince was painted largely with the airbrush, my first time using the new one. And my first time using an airbrush since I was about 15 (I'm almost 33 now, so it's been a while).
I always feel like I'm just spinning my gears when I don't mark an item off the to do list, but I did actually get quite a bit accomplished this week. Which is good, because things are going to start getting busier and busier here.
WARRIORS OF TZEENTCH v2.0
The second Warrior unit is much like the first: 15 Warriors with full command, Halberds, and Shields. The big difference of course is that this unit comes with the Banner of Eternal Flame, so not only are they tough with a solid punch they're great for knocking out trolls and other particularly annoying targets. Since I had a few bases laying around I decided to get the command rank and the unit filler knocked out.
I salvaged some previously painted stuff (my converted plastic chosen for instance) to make some flaming unit filler.
When I have some time, I'll get these guys painted and prep the remaining Warriors for their bases. The remaining warriors will have magnetized halberds and hand weapons.
COMING SOON
Next week I should receive some of the bases I ordered which means the Warhounds will be finished shortly afterward. I've also got a lot of movement trays I want to texture and paint. And of course, there's the display board which might actually get finished this week (if all goes according to plan). Then there's the work on the Warriors and possibly a new unit of Marauder Horsemen, thanks for complicating things Games Workshop…
The way things look, the bases really are the only thing that will keep me from finishing in a timely manor. So, I'm going to push forward. My goal is to have everything finished and waiting when the bases get here, so I can just focus on getting the bases magnetized, painted, and the models attached to them.